Local Attractions
The Berkshires.......
Shopping - Outdoor Activities - Cultural Activities - Miscellaneous
Shopping
---
Designer Outlets - Manchester, VT
Over 30 Outlet Stores! Stores include: Banana Republic, Brooks Brothers, Escada, Giorgio Armani General Store, Kenneth Cole, Overland, Polo Ralph Lauren, Tumi, Vermont Bird Place, Yankee Candle and more.

Outdoor Activities
---
Mt. Greylock Reservation (hiking trails or auto road)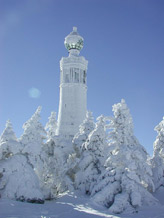 Mt. Greylock Reservation - (4 mi away)
At 3,491 feet, Mount Greylock is the highest point in Massachusetts. Rising above the surrounding Berkshire landscape, dramatic views of 60-90 miles distant may be seen. The roads to the summit are open seasonally from late-May through November 1; weather permitting.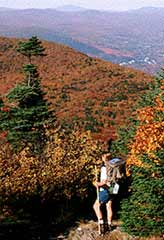 Appalachian Trail- Western Massachusetts (hiking trails)

The Appalachian Trail provides a broad array of hiking opportunities for both the long-distance or day hiker. Ninety miles of this long-distance trail are in Massachusetts, running along the ridges and traversing the valleys of Berkshire County.


Skiing & Resorts (year round)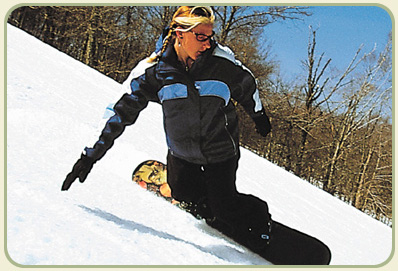 Jiminy Peak Resort - (15 mi away)
Skiing, Alpine Slide, Mountain-Coaster, and more.
Biking, Roller Blading, Walking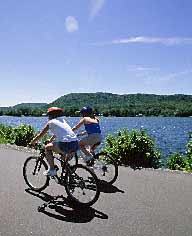 Ashuwillticook Rail Trail - (10 mi away)
The Ashuwillticook Rail Trail is a former railroad corridor converted into a 10-foot wide paved, universally accessible, passive recreation path. The Ashuwillticook runs parallel to Route 8 through the towns of Cheshire, Lanesborough and Adams. The southern end of the rail trail begins at the entrance to the Berkshire Mall off MA Rte. 8 in Lanesborough and travels 11.2 miles north to the center of Adams. Parking lots and restrooms are available at selected locations along the way.
White Water Rafting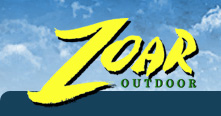 Zoar Outdoor - (20 mi away)
Beginner to advanced rafters alike can find rafting fun on the Deerfield River from April to October. From mellow half-day family float trips to Class III action on Zoar Gap and Class IV excitement on the Dryway, Deerfield River rafting has it all!

Crab Apple Whitewater - (23 mi away)
We run the Millers River on special dam releases and natural flows from the Spring thaw. Early April flows yield non-stop Class II-III-IV action punctuated by "The Funnel" and "Tsunami" rapids. Later in Apri and early May, the Millers often runs for a Class II-III intermediate trip. This trip has action from beginning to end with long, continuous rapids and only short breaks as we float behind active and historic mill sites. This trip is tough to beat for continuous action!
Cultural Activities
---
Museums

(Massachusetts Museum of Contemporary Art) - Since opening in 1999, MASS MoCA has become one of the world's premier centers for making and showing the best art of our time. With annual attendance of 120,000, it ranks among the most visited institutions in the United States dedicated to new art. More than 80 major new works of art and more than 50 performances have been created through fabrication and rehearsal residencies in North Adams, making MASS MoCA perhaps the most fertile site in the country for new art. The museum thrives on making and presenting work that is fresh, surprising, and challenging.
Sterling and Francine Clark Art Institute - The Sterling and Francine Clark Art Institute is an art museum and a center for research and higher education, dedicated to advancing and extending the public understanding of art. No other institution of its scale and character has such a complex and exhilarating mission—complex because interrelating the differing purposes of an art museum and a center for research and higher education is so challenging, and exhilarating because the possibilities and implications of this combination are so dynamic.
Williams College Museum of Art - One of the finest college art museums in the country, the Williams College Museum of Art (WCMA) houses 12,000 works that span the history of art. Within the broad range of time periods and cultures represented, the collection emphasizes modern and contemporary art, American art from the late 18th century to present, and the art of world cultures. Admission to the museum is always FREE as are a host of educational programs that are available to the public.
The Berkshire Museum - At the Berkshire Museum, there's something for everyone. We offer a unique blend of exhibitions, galleries, and attractions for families of all ages. See exhibitions, fine art, and sculpture from around the world. Explore our touch tank and aquarium. Be amazed at our collection of artifacts from Native American cultures and ancient cultures of Egypt, China, and more. Marvel at the technology that awaits in the new Feigenbaum Hall of Innovation. So much to see, and all under one roof…go ahead, Discover the World Inside.
Hancock Shaker Village - Hancock Shaker Village, Inc., is a private, not-for-profit educational organization. Our mission is to bring the Shaker story to life and preserve it for future generations. Over its history, the Village has restored the site and buildings, assembled and cared for the premier Shaker collection, and added innovative educational programs for the public. The Village was designated a National Historic Landmark in 1968 and is accredited by the American Association of Museums.
Herman Melville's Arrowhead - Arrowhead, home of Herman Melville from 1850-1863. It was at Arrowhead that Melville wrote his most famous work, Moby-Dick, along with three other novels, Pierre, The Confidence-Man, and Israel Potter, a collection of short stories entitled The Piazza Tales, all of his magazine stories, and some of his poetry. Arrowhead is now a house museum interpreting the life of the Melville family in the Berkshires.
Norman Rockwell Museum - Norman Rockwell Museum, located in Stockbridge, Massachusetts, holds the world's largest and most significant collection of works by Norman Rockwell, including more than 700 paintings, drawings, and studies and an archive of more than 150,000 photographs, letters, and materials.
Bennington Museum (Bennington, VT) - The Bennington Museum is known as the trusted caretaker of the largest collection of Grandma Moses art and memorabilia available to the public. Located in the heart of Vermont, our galleries evoke the rich heritage of this state with collections of paintings to pottery to historical objects and fine furniture.
Theatre/Dance
Williamstown Theatre Festival (summer only) - Nestled in the Berkshire Hills of western Massachusetts, the Williamstown Theatre Festival is a celebration of theater that brings together a vast array of artists and offers audiences varied cultural experiences. Every summer, WTF presents classic and new plays on its Main, Nikos and Center Stages, Free Theatre, Late-Night Cabaret, and readings and workshops.
The Colonial Theatre - Located in downtown Pittsfield, Massachusetts the Colonial Theatre is a Gilded Age architectural gem brought back to life as a performing arts center in the "heart of the Berkshires." Present, produce, and host a wide variety of quality performing arts events, accessible to all, while fostering artistic collaboration and performing arts education in a restored national historic landmark building.
Barrington Stage Company - Theatre in the Berkshires - Barrington Stage Company (BSC), founded in 1995, is a not-for-profit professional theatre company in the Berkshires (MA), with a three-fold mission: to produce top-notch, compelling work; to develop new plays and musicals; and to find fresh, bold ways of bringing new audiences into the theatre, especially young people.
The Albany Berkshire Ballet - The Albany Berkshire Ballet is nationally recognized for its versatility in performing both classical and contemporary dance works with excellence.
Jacob's Pillow Dance - The Pillow presents dance from all over the world in all forms, styles, and traditions, plus approximately 200 free events each season, including performances, lectures, tours, film showings, exhibits, and talks with artists, which result in around 83,000 visitor experiences each summer.
Music
Tanglewood - Today Tanglewood annually draws over 350,000 visitors. Each season offers not only a vast quantity of music but also a vast range of musical forms and styles, all of it presented with a regard for artistic excellence that makes the festival unique.
Miscellaneous
---
Movie Theaters
Images Cinema (Williamstown, MA) - The only year-round, nonprofit, independent film house in the Berkshires. Images Cinema is ever expanding to entertain and educate with quality programming, while maintaining its strong dedication to independent film and media.

Listed below are addresses of other movie theaters in the area.
(802) 442-8179
319 Northside Dr, Bennington, VT 05201