Current Offers
Turboprop East, Inc. Offers and Incentives.
Avionics - Kits and Upgrades - Miscellaneous

Avionics
Rockwell Collins Pro Line 21 for King Air
Taking your Pro Line 21 King Air into NextGen airspace!


Your TOTAL solution!

Open brochure for upgrade options and packages available

Click here for brochure


Call Gary at Turboprop East, Inc.today for more information!
413 664-4585

---
Garmin
GTX 345 series of Mode S Extended Squitter (ES) transponders

All-in-one Transponder Solution for ADS-B "Out" and "In"

Garmin provides a one-box, one-swap solution that enables owners and operators to meet ADS-B requirements with minimal expense, downtime and disruption to their panels – while providing all the weather and traffic benefits of ADS-B "In".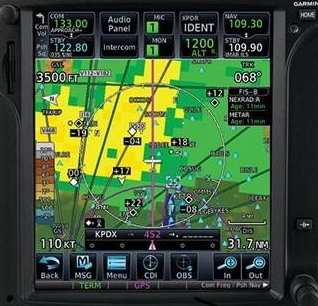 1090 MHz ADS-B "Out" enables aircraft to operate at any altitude, in airspace around the globe
Combines Mode S Extended Squitter (ES) transponder and optional WAAS/GPS position source in single unit

Provides access to dual-link ADS-B "In" traffic and subscription-free weather on compatible displays

Wirelessly stream weather, traffic, GPS position and backup attitude via Connext™ link to Garmin Pilot™ and ForeFlight Mobile apps as well as the aera® 795/796 portables
Easy replacement for your existing transponder, with common 1.65-inch tall form factor
Call Turboprop East for more information!!
413 664-4585
---

NEW Avidyne Offer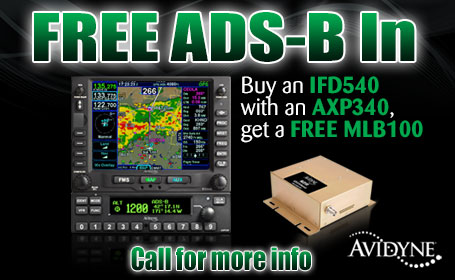 Call Turboprop East for more information!!
413 664-4585

---
L3 Avionics

Enter the Lynx® MultiLink Surveillance Systems (MSS).
It's a simple replacement for your old transponder that's packed full of ADS-B benefits.

Click here for an interactive demo
Turboprop East, Inc. is an L3 Avionics Dealer

Lynx NGT-9000 is a single box solution!
You get:
ADS-B traffic,
Mode S Extended Squitter transponder with a compliant GPS/WAAS position source,
NEXRAD graphical and textual weather as well as moving maps,
Up to the minute NOTAMs, TFRs and Winds and Temps Aloft data.

The Lynx NGT-9000 is a Dual Mode 1090ES ADS-B Out
plus 1090 and 978 ADS-B In device
that is designed for 14 V or 28 V installations.

L-3 NextGen Active Traffic® is an available option
that is integrated directly in the Lynx NGT-9000, eliminating the need for a remote box.

---

New to market
TA102 Dual Charging Port
Self-contained TA102 Dual USB Charging Port is a modern addition to any cockpit and interior cabin
Charge one or two products simultaneously with a USB interface
Panel or cabin mount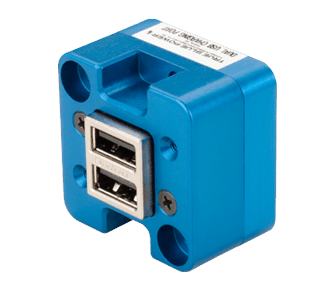 Click image for specs
The TA102 protects itself & the charging device from short-circuit, power surges & over-current potential
Turboprop East is a Mid-Continent Instruments Co. Dealer

Call (413 664-4585) or
email
Turboprop East to order!!
---
Rockwell Collins CASP Program

(Corporate Aircraft Service Program)

Component repairs and No Fault Found (NFF) removals
of avionics or cabin entertainment equipment on your aircraft
are covered with your annual CASP membership.

Here is more information - Rockwell Collins CASP Program

Interested? - Email or Call Turboprop East Inc. for your CASP Quote!
---
---


Kits & Upgrades
---


Miscellaneous
- back to top
---